You are here:
Home
/
Federal Criminal Appeals Lawyer Florida
Federal Criminal Appeals Lawyer in Florida
Call 1-800-APPEALS in Miami – Tampa – Orlando
Federal Appeals Attorney In Florida
Federal Criminal Appeals in Florida are argued before the Eleventh Circuit Court of Appeals, which includes federal criminal appeals coming from Miami and Tampa. The Appellate Law Office of Stephen N. Preziosi is a boutique federal criminal appeals law firm admitted to practice in the Eleventh Circuit Court of Appeals. Our federal appeals lawyers focus on federal criminal appeals in Florida, in all federal appeals courts throughout the United States, and in the United States Supreme Court. We represent clients with criminal convictions involving violations of the RICO Act, the Hobbs Act, and convictions stemming from narcotics trafficking by plea or after trial. Some of the related areas of appellate practice include convictions involving the following: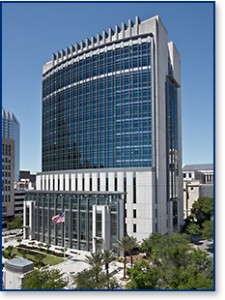 International transport of narcotics;
The sale and possession of narcotics;
Conspiracy to buy and sell narcotics across state lines;
Sales involving undercover agents;
Sales of narcotics to cooperating witnesses; and
Manslaughter.
Contact our Florida federal appeals lawyers:
1-800-APPEALS.
Federal Criminal Appeals in Florida: The Waiver Of Appeal
One question that people constantly ask is whether they can file a federal criminal appeal despite having signed a waiver of the right to appeal as part of a plea agreement. The answer is, yes; it is sometimes possible depending on the terms of the waiver agreement and incarceration.
A waiver of appeals is typically part of a settlement agreement between the defendant and the prosecution. Our clients who have pled guilty and signed a waiver are not necessarily prevented from appealing their cases because a waiver of appeals is not always applicable or enforceable. Our experienced staff of attorneys will review the waiver of appeal and determine whether the judge has acted outside of the boundaries of the terms contained in the agreement. If the trial judge has gone beyond the parameters of the waiver, the Appellate Law Office of Stephen N. Preziosi has all the more chance of winning an appeal.
Trial court judges, lawyers, and jurists make mistakes every day because human beings are not perfect. However, the attorneys at the Appellate Law Office of Stephen N. Preziosi are experienced in finding trial court mistakes, including abuse of discretion of a waiver of appeal, which gives you a better chance on appeal.
The Key to a Successful Federal Criminal Appeal in Florida Is The Appellate Brief
The best federal appeal lawyers combine a well written brief with an intricate study of trial court transcripts because transcripts are where errors and omissions are found. The lawyers at the Appellate Law Office of Stephen N. Preziosi that handle federal criminal appeals in Florida increase your chances of winning before the Eleventh Circuit Court of Appeals by not only perusing but also scrutinizing every word of court transcripts that are derived from criminal trials. We leave no stone unturned to uncover the best legal issues to raise in the appellate brief.
Identifying Appealable Issues in Federal Criminal Appeals is Our Business
With our legal eagle eye, the Appellate Law Office of Stephen N. Preziosi has honed its ability to identify appealable issues, which can include but are not limited to Constitutional violations by the police and trial court such as the following:
U.S. Sentencing Guidelines
Dog sniff searches (4th Amendment)
Home Searches (4th Amendment)
Curtilage of home searches (4th Amendment)
Business premises searches (4th Amendment)
Evidentiary Rules (Federal Rules of Evidence)
Ineffective Assistance Counsel (6th Amendment)
Excessive Sentencing (8th Amendment Constitutional)
Federal Criminal Appeals in Florida: The Secret to Successful Federal Appeals
Federal appeals are challenging and complex because each circuit court of appeals has their own procedural and substantive rules and laws which must be followed during the appellate process. For example, the Eleventh Circuits rules regarding the timeliness of appeals and formatting of briefs can be very different from the Third Circuit because each circuit has different standards depending upon the state of origin of the appeal. But, because our lawyers are award winning writers and orators whose appellate briefs and arguments are closely monitored for detail, our Florida clients sleep soundly at night knowing that their appellate brief is within the 11th Circuits guidelines.
Award Winning Lawyers Win Federal Criminal Appeals
We pride ourselves on expertly crafted federal appeal briefs and oral arguments because our lawyers have won multiple awards for superb writing and speaking. Convincing an appellate panel of judges in less than 10 minutes is not for the faint of heart however for the Appellate Law Office of Stephen N. Preziosi, oral argument is all about strategically channeling the judges to focus on how the appellants rights were denied, violated or ignored by busy trial judges.
Our favorite Florida clients are those that have been convicted of crimes because we enjoy challenging the trial court's substantive and procedural transgressions regarding p waivers of appeal. Call us. We write and argue the best criminal appeal possible based on the mistakes and overlooked discrepancies of the lower court.
Don't give up. Fight back with the best. Call 1-800-APPEALS.