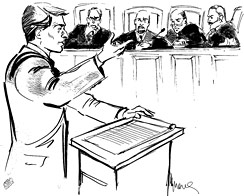 Choosing the right criminal appeals lawyer for your case is one of the most important decisions you will ever make. When you are appealing a criminal conviction the right appellate lawyer is essential. Not all attorneys and law firms practice in the area of appeals on a regular basis; some lawyers have "handled" appeals, other firms have an appeals practice "area" as a component of their firm. The distinction between choosing a law firm to handle your appeal and choosing a Criminal Appeals Lawyer to perfect and argue your appeal is critical.
The practice of criminal appeals law in New York covers a wide variety of legal applications. They include writs of habeas corpus, 440 motions, felony appeals, misdemeanor appeals, Federal cases and more. The preparation of all of these requires experience and expertise in the appellate arena. For your perusal here is a succinct outline of some essential areas of Appellate practice that you can learn more about.
At the Law Office of Stephen N. Preziosi P.C. appeals of criminal convictions are not just part of my practice – they are all of my practice. The preparation of an appeal requires specific knowledge of the procedural laws of both the State and Federal appellate courts in New York and the ability to successfully navigate these systems on behalf of the client. Perfecting the appeal requires the ability to construct appellate briefs that engender clear, cogent and compelling legal argument, and necessitates garnering the appropriate lower court records for timely submission to the appellate court. At this Appeals Law Firm we handle appeals of felony convictions and appeals of misdemeanor convictions.
Oral argument of the appeal is a fusion of the rhetorical and persuasive arts; the Appellate lawyer must have in depth knowledge and be well versed in the applicable law. He must be ready to answer any factual, legal and hypothetical questions from a panel of appellate judges – above all – he must advocate on behalf of his client.
Intimate knowledge of the procedural maze in the appellate arena – exceptional appellate writing and oratorical skills – exclusive dedication to the practice of appellate law – these are the factors that set this law firm apart – these are the attributes to consider when choosing an Appellate lawyer to appeal a criminal conviction.
For Federal Criminal Appeals please see www.federalappealslawfirm.com